November 2016
The Pilgrim Statue that has been visiting all the Parishes in our Diocese came to St May's in November. Each class got to spend a day with the statute celebrating it's beauty and presence in prayer and reflection. We enjoyed an art afternoon exploring the statute and what it means to us. Come and have a look at what we have been doing.
Spring Term 1
Children and teachers in Class 2 are ready to celebrate Lent and are very proud of a poster that we have made together.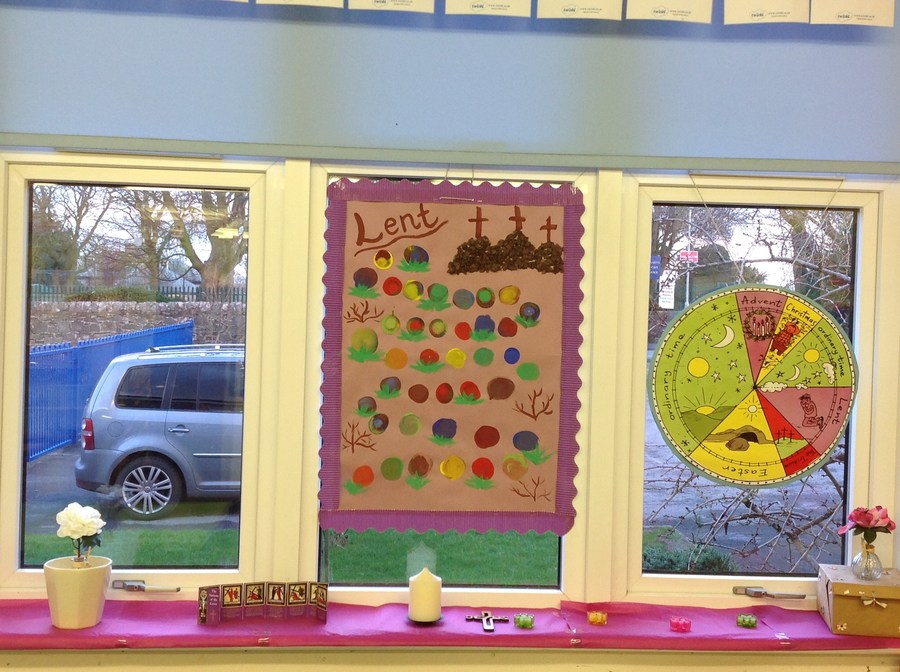 Children in Class 2 enjoyed getting messy and making seasons trees.
In Class 2 children wrote season poems and used musical instruments to perform their poems.
November 2015
The topic for this half term in Class 2 is Fire and we began it by learning about The Great Fire of London. The children enjoyed creating timelines of The Great Fire and fabulous art work.
A Very Special Visitor
The children in class 2 had a very exciting and busy day today (11th November 2015). As we learned that The Great Fire of London started at the bakery on Pudding lane, we invited Brian from Thomas's Bakery to teach us how to bake bread. We baked 9 loaves of bread and now know little secrets of bread baking.
December 2015
Children in Class 2 are very excited to celebrate Advent. They all get to write an Advent promise for our very special Advent calendar and get a chocolate treat from Advent calendars that Mr McGoldrick kindly bought for us.