Rosary Day
We learned the Hail Mary and we made a memory book to help us remember how to pray the Rosary. We wrote our own prayers to Mary. Our Governor Mrs Hocking taught us how to use Rosary beads to help us remember.
Noah's Ark Assembly
We enjoyed working with the ladies from 'Open the Book' to retell the story of Noah and his Ark.
May 2017
We processed to Church to celebrate Our Lady, Mary Mother of God. We made Her a garland of Roses and sang Ave Maria as we walked to Mass.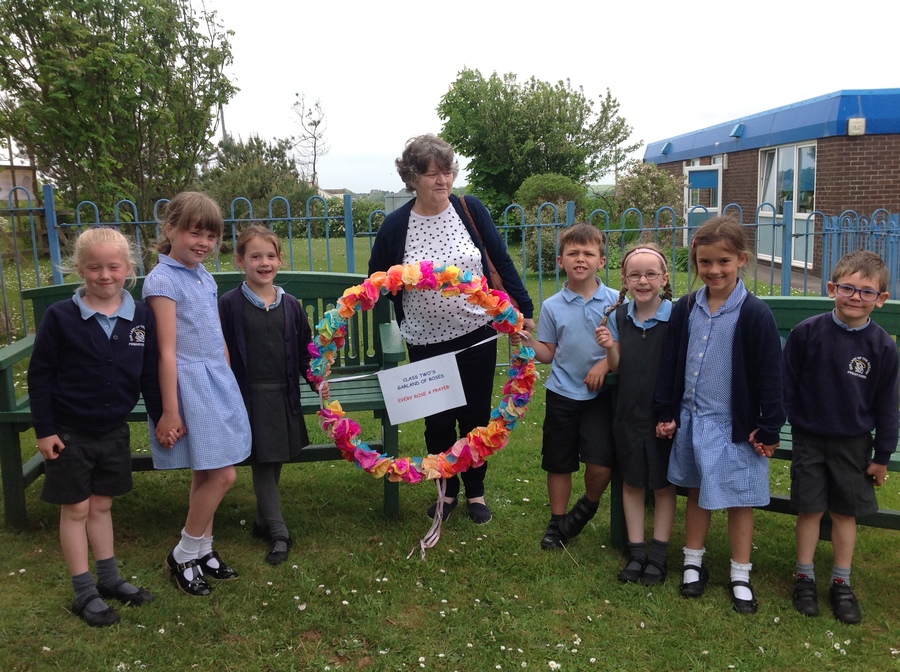 April 2017 - RE Day - Maundy Thursday
We learned about Jesus washing His disciples feet. He set us the example that we should serve one another in love. WE also made unleavened bread like the disciples would have shared at the Last Supper.
March 2017 - Visit from Fr. Ossie
We invited Fr. Ossie to come and talk to us about his job in the Parish and the Mass. The children asked him lots of very thoughtful questions and we had a lovely afternoon together.
1st March 2017 - Ash Wednesday
The whole school walked down to Church on Ash Wednesday to join the Parish for Mass. After Mass, Class 2 stayed behind to have a special look around our Church as part of our R.E topic - The Church.
October 2016 - Icon of Mercy
The Pilgrim Statue was travelling around our diocese. When it arrived at our school, we wrote prayers, made Sacred Heart biscuits and drew the beautiful statue. We also spent time in reflection.